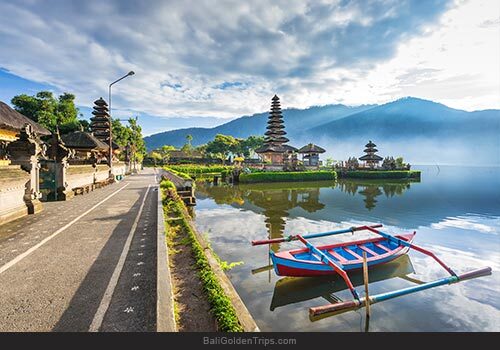 BERATAN LAKE
In Bedugul there is a beautiful Beratan Lake appeared around 1,239 meters above sea levels. Beratan Lake is located next to Mount Bratan and Mount Catur. It is the second largest lake in Bali. You can see directly because is located on the edge of highway Bedugul. Exactly located in CandiKuning Village, Baturiti District of Tabanan. Beratan Lake is a lake that first passed when you come from Denpasar and about 300 meters from the Bedugul Botanical Garden. The lake is located on the right road when heading Singaraja. Beratan is perfect place for water sports such as para sailing, motor boating, jet skiing, water skiing, canoeing, etc. Bedugul fertile soil also produced abundance of plants and trees, some of them formed rain forests with their exotic birds, monkeys, and other creatures.
The important temple of Pura Ulun Danu solemnly guards the lake. The resort area of Bedugul offers excellent views of the lake, as well as a number of water activities. Providing a cool retreat from the hot and humid regions of Bali, its shores provide the traveler with hotels and restaurants and its cool waters offer parasailing, water-skiing, banana-boat rides, and other water sports. Some Japanese caves across the lake were dug during World War II. =While in the area hike to the beautiful shrines that dot the lakeshore and forested hills around the lake or visit the beautiful Pura Ulun Danu Bratan.
Not far from here are Buyan Lake and Tamblingan Lake, two of the four large lakes on Bali, which can also be worth a visit. Bratan has an altitude of about 1.000 meters, the climate is quite comfortable, and at the night we may even need some warm clothes. The area around the lake is well equipped to cater for visitors, with facilities for various water sports (motorboats, water-skiing, bathing) and a good restaurant.
If you decide to book a tour to this place, please open the link: Bedugul & Beratan Lake Tour

The alternative way how to Get There


A good road runs from Singaraja's western bus station to Bedugul, using 'bemo' or minibus. If heading north to Singaraja, take a 'bemo' from Denpasar's Ubung Station to Bedugul-a faster route to the north coast than via Kintamani. Bands of dark, heavy-coated monkeys are often seen along this road. If coming into Bedugul from the south, the first right turn is to Taman Rekreasi. If you go straight ahead the road passes through of Candikuning Village and Pancasari on the west shore of Beratan Lake before climbing through the pass of the water at Puncak to begin its steep winding drop to the northern plains.
By 'bemo' to Mengwi, Singaraja or Denpasar. If you're heading back to Denpasar, start early in the afternoon because 'bemo' tend to fill up fast above Bedugul; by the time they reach you, there's no more seating room. At the Denpasar 40 km sign below Baturiti, a dirt road via Apuan and Jatiluwih emerges at Wangaya Gede, but it's so full of boulders it'll shake the guts out of anyone on a motorcycle.
In Jatiluwih, for a sweeping 360-degree panorama over rice fields. At an altitude of 850 meters, the air is cool and fresh. A Rangda temple and parking lot are beside the viewpoint. A two km walk into the woods will bring you to the unique Pura Petali, as old as the village of Jatiluwih itself. The houses in this traditional village are still built with thatched roofs, and the farmers still work 'padi bali', traditionally grown rice that reaches 120 cm in height. Three km beyond, in the southern end of the village, are more unobstructed rice fields and-if the sky is a clear-a view of the curved southern tip of Bali. At Wangaya Gede, head north for Mount Batukaru. South takes you down to the cultivated plains.
Another nice experience is walking the 25-km-long track from Bedugul to Kintamani. You're also within striking distance of the mountain area or Munduk. Just head north by road to Gitgit, then turn east. Stop in at the pristine Tamblingan Lake route.
Nearby Attractions

Ulun Danu Temple
Buyan Lake
Tamblingan Lake
Candi Kuning market
Accommodations

Puri Candikuning Retreat
Pacung Indah Hotel and Restaurant
CLV Hotel & Villa.