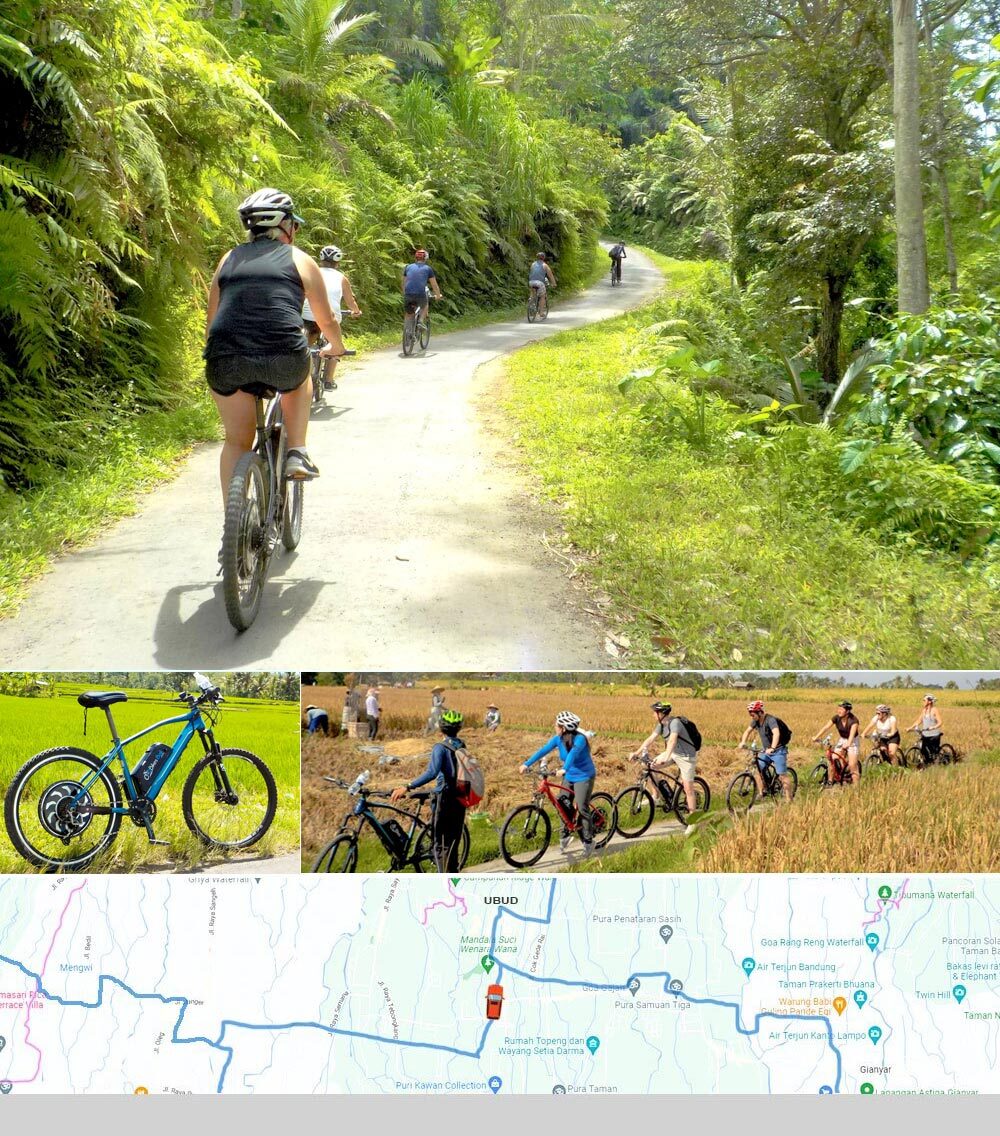 E-Bike Bali - Ubud - Tegallalang rice terraces cycling tours
When we started eBikes Bali we knew that we wanted to offer half-day Ubud bicycle tours. We knew that there were incredible things to see around Ubud and that seeing them on a bicycle was the way to do it. There was just one problem, hills! That's where the electric bicycle comes in. An electric bicycle allows you to go up those hills as if they weren't there.
Other Ubud bicycle tours require that you take a van up to the top of the mountain and roll down. There's just one problem with that, it takes too much time! Going up the mountain is a popular tourist activity for many tourists, especially the Chinese and domestic tourists who go up there in big tour buses. This means one thing, traffic. So, between having to take the van up the mountain, fight traffic, then take another van back to Ubud you have now spent an entire day on your cycling tour. We think that's unnecessary.
At eBikes Bali we want to deliver you an unforgettable experience in a convenient amount of time. That is why when we pick you up from your hotel you get a private car for the Ubud areas.

NOTES: Available return transfers beyond the Ubud area will be charged an extra USD 40.00 per car/ return
In life, time is the most valuable thing you have. Nowhere is this more true than when on holiday. You took the time off work, you spent time booking flights and hotels, and you are likely spending a lot of money on your trip. This means that every hour is precious and you should make the most of it.

We are always conscious of your time. That's why we give you a private pickup, that's why we put more guides per guest on a tour than any other company, and that's why we take photos for you so you can enjoy the scenery. Our half-day Ubud cycling tour only takes half a day but is FULL quality.
Chat Now for an immediate response:


Typical of Itinerary
7.30-8.30 am – Hotel pick-up times (share bus transportation)
9.00 - Registration, payment, training & safety briefings by the guide.
9.30 – Start your e-bike

12.30 pm Lunch at a local restaurant
3.30 pm – finish and transfer back to your hotels
Tour Duration
The duration of this trip is 3-4 hours

PRICE USD 59.00
/ person

(Price varies by group size)
Includes
Full air-conditioned return transfer in Ubud area only, Fluence English-speaking bike guide, the E-bike, Helmet, towel, Bottled Mineral water & Lunch

NOTES: Available return transfers for beyond the Ubud area will be charged an extra USD 40.00 per car/ return


Excludes
Personal expenses, extra meals
Cancellation Policy
You can cancel up to 24 hours in advance of the experience for a full refund.
For a full refund, you must cancel at least 24 hours before the experience's start time.
If you cancel less than 24 hours before the experience's start time, the amount you paid will not be refunded.
Any changes made less than 24 hours before the experience's start time will not be accepted.
Cut-off times are based on the experience's local time.