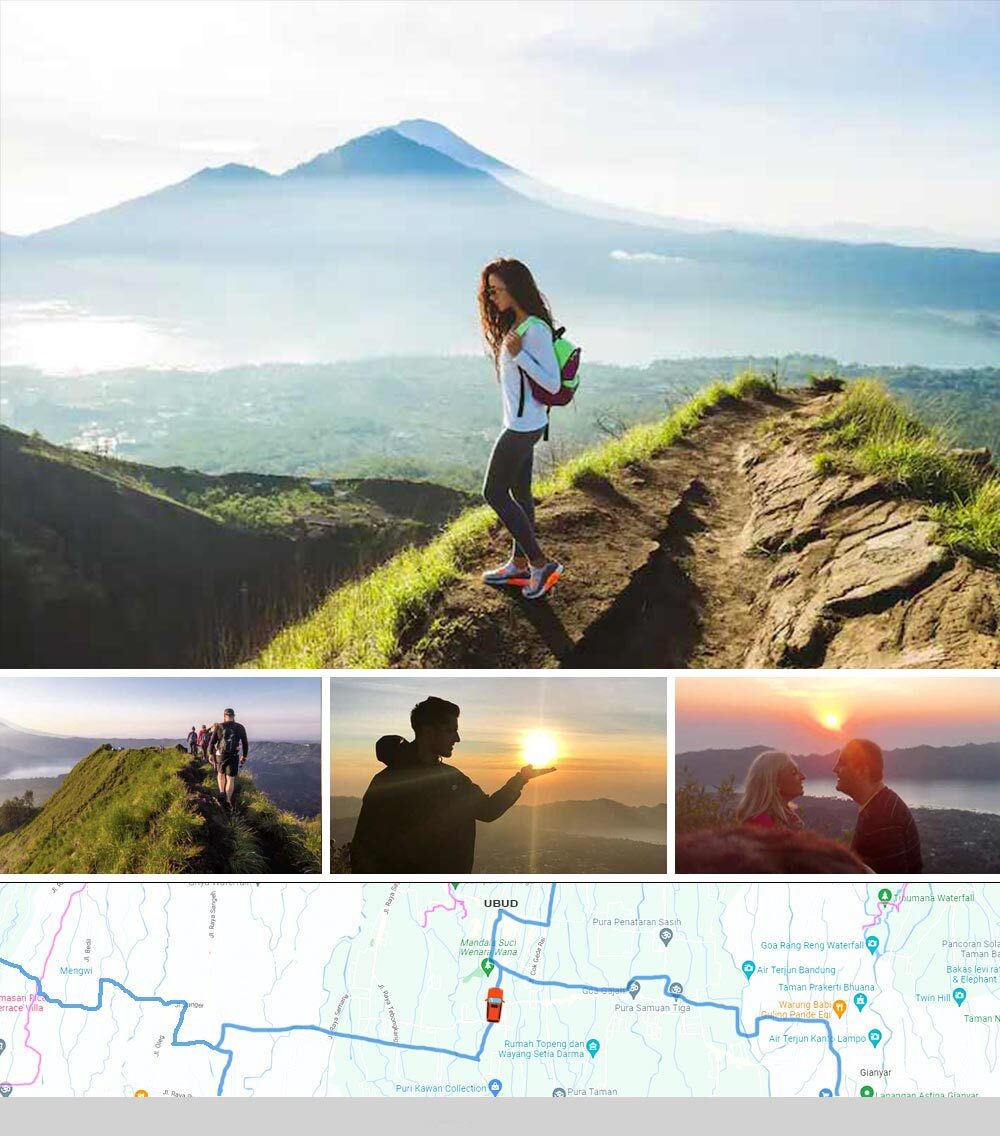 Batur Active Volcano Sunrise Trekking
2 persons
USD 65.00
per person
3 persons
USD 60.00
per

person

4 persons
USD 55.00
per

person
Catch the magnificent sight of the red sky when it appears during the sunlight and a beautiful sunrise from the top of the Volcano. Walk around the rim of the volcanic cone and continue to the 2nd crater, which last erupted in 1926, then to the 3rd crater, which erupted in 1963, finally we arrive at the youngest crater, which erupted in 1974 and again in 1994. Descending from the crater you will climb down to the black sand that was originally lava flow during the eruptions.

Batur Active Volcano on GoogleMap

Chat Now for immediate response:

Batur Active Volcano
Courtesy:

52.4K subscribers
https://www.youtube.com/watch?v=al6hhR2ezGc
Typical of Itinerary
01 - 01.30 am - Hotel pick-up times.

03:30 am - Arrived at the starting point area to get breakfast coffee and tea then group team briefing.

03:45 am - Starting your journey for climbing mount Batur (1717) with our professional Guide English speaking.
On the way to the top of Batur mountain, our guide will request you to get a second breakfast don't worry if you need to rest at any time our guide will be available at your request.

05:45 am - Finally on the Top of mount Batur, feel proud of yourself for conquering the second highest mountain in Bali. while you wait to see the beautiful sunrise that will be happening at 5.45-6.00 am.
congratulations!

08:00 am - After finish for trekking meet again with the driver at the start point.

9-10 am - We leave the camp
12.00 Arrive at Hotel
Tour Duration
The duration of this trip is 8-9 hours

From USD 45.00 per person.
(Price varies by group size)
Includes
- Hotel return transfers.
- Private guide trekking.
- Entrance ticket.
- 2x Breakfast.
- Mineral water.


Excludes
Personal expenses & gratitude
What to bring & use
Cash IDR for payment, camera, extra clothes, Cool Jacket, and towel.
Use: Sport shoes
Cancellation Policy
You can cancel up to 24 hours in advance of the experience for a full refund.
For a full refund, you must cancel at least 24 hours before the experience's start time.
If you cancel less than 24 hours before the experience's start time, the amount you paid will not be refunded.
Any changes made less than 24 hours before the experience's start time will not be accepted.
Cut-off times are based on the experience's local time.