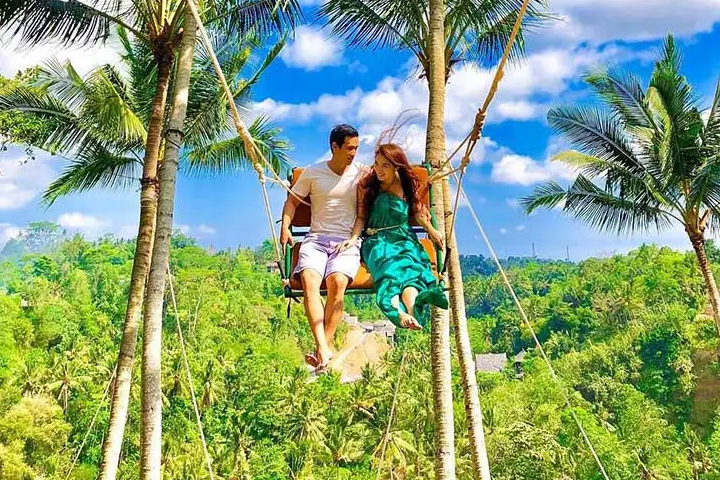 Bali swings are a popular tourist attraction in Bali, Indonesia. They offer visitors the opportunity to experience the thrill of swinging high above the lush tropical landscapes while enjoying breathtaking views of rice terraces, forests, rivers, and waterfalls.
These swings are typically made from sturdy ropes or chains attached to tall palm trees or purpose-built structures. The swings are designed to provide an exhilarating experience as you swing back and forth, feeling the rush of wind and the sensation of flying through the air.
Bali swings come in various sizes and styles, ranging from single swings to tandem swings that can accommodate two people at once. Some swings are designed with additional features, such as bird's nests or giant teacups, where visitors can sit and enjoy the swinging experience in a unique setting.
Many Bali swing attractions also offer other activities and amenities to enhance the overall experience. These can include zip lines, photo booths, giant swings that swing over cliff edges, and hanging nests where visitors can relax and take in the panoramic views. Some places also provide professional photographers who capture stunning pictures of visitors during their swing rides.
Bali swings have gained popularity due to their ability to combine adventure, adrenaline, and natural beauty. They have become Instagram-worthy spots, attracting tourists from around the world who seek thrilling experiences and stunning photo opportunities.
It's important to note that while Bali swings can be exciting and fun, safety precautions should always be followed. Visitors should carefully follow the instructions provided by the operators, wear appropriate safety gear if provided, and be aware of any height or weight restrictions.
Overall, Bali swings offer a unique way to immerse yourself in the natural beauty of Bali while enjoying an adrenaline-pumping adventure.