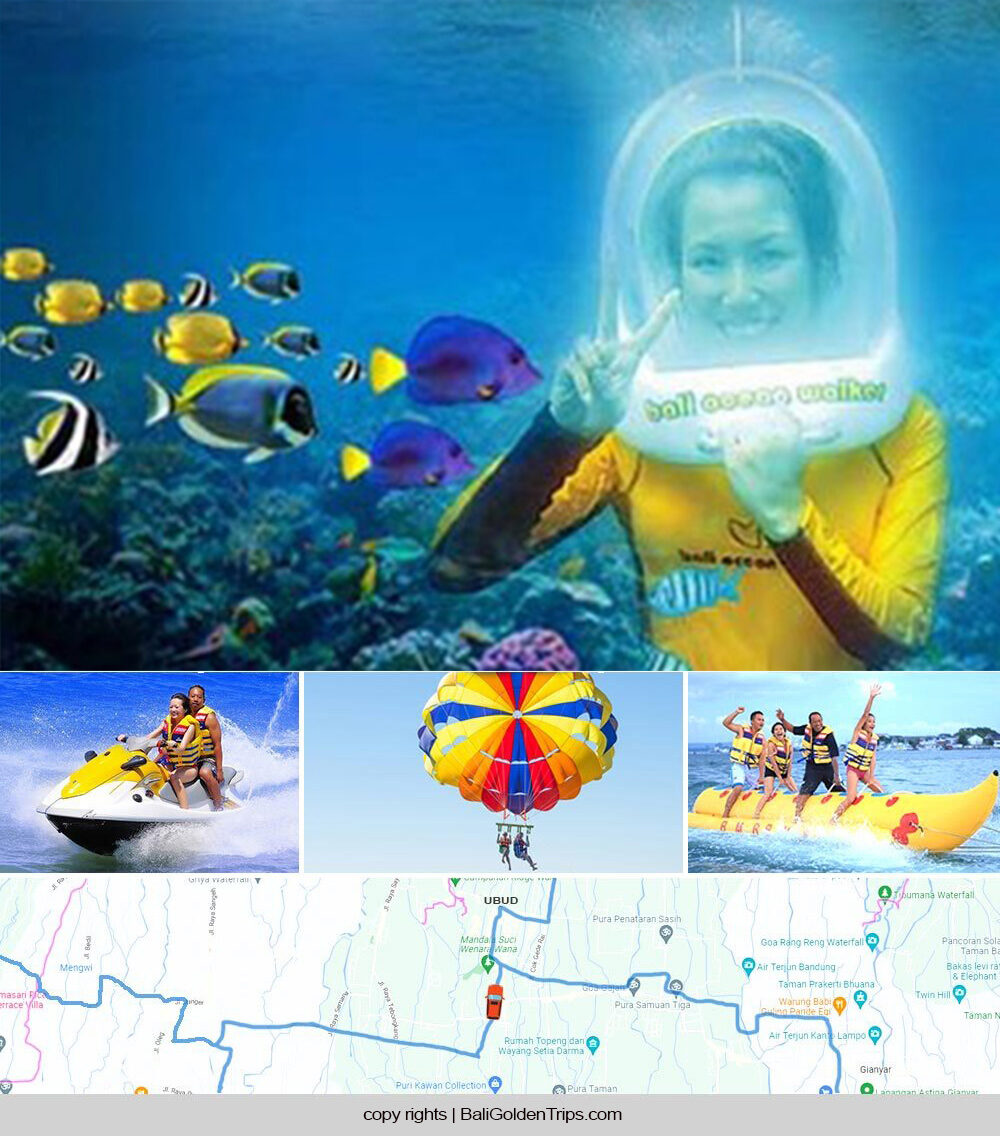 Underwater Walks & Water-sports Activities in Nusa Dua North Beach
Bali underwater walks are a popular activity for tourists visiting the island of Bali in Indonesia. It is a unique and exciting way to explore the underwater world without having to learn scuba diving or snorkeling.
During a Bali underwater walk, participants wear special helmets that allow them to breathe normally while submerged underwater. The helmets are connected to an air supply system on the surface, ensuring a continuous flow of fresh air. Participants walk along the ocean floor, which is usually a sandy or rocky area near the shore.
The underwater walk is conducted under the guidance of trained instructors who ensure the safety and enjoyment of the participants. They provide instructions on how to use the equipment and communicate underwater. The instructors also point out interesting marine life and provide information about the underwater ecosystem.
Participants can expect to encounter a variety of marine life during their Bali underwater walk, including colorful fish, coral reefs, and other fascinating creatures. The experience offers a close-up view of the underwater world, allowing participants to observe marine life in their natural habitat.
Bali underwater walks are suitable for people of all ages, including those who cannot swim or have little experience with water activities. However, participants should be in good health and not have any medical conditions that could be exacerbated by being underwater.
Chat Now for immediate response:


BOOK NOW! Lowest Price Guarantee
Underwater Walks & Water-sports Activities in Nusa Dua North Beach
Please fill out the booking form
Typical of Itinerary
08 - 9.00 AM – Private car hotel pick up
10.00 am - Enjoy the watersports activities

1-2.00 pm – Transfer & arrive back at Hotel.

NOTES:
- Please select your water sports optional on the Booking Form.
Lowest Price Guarantee
PRICE Starts from USD 15.00 pp

This is a private tour, on a fully air-conditioned vehicle with an English-speaking Tour Driver.

Includes
Private air-conditioned car, English-speaking tour driver, Toll road fees, Parking fees, Drivers' meals.

Notes :

Free Hotel pick up and drop off available for area: Canggu, Denpasar, Jimbaran, Kuta, Legian, Nusa Dua, Sanur, Seminyak, & Uluwatu only.
Other areas (Pererenan, Tabanan, & Ubud) will be charged an extra cost of USD 20.00 / car, which can be paid in cash on the day of the tour to the Tour Driver.
Excludes
Water sport rentals & activity, Personal expenses, and meals.

Cancellation Policy
You can cancel up to 24 hours in advance of the experience for a full refund.
For a full refund, you must cancel at least 24 hours before the experience's start time.
If you cancel less than 24 hours before the experience's start time, the amount you paid will not be refunded.
Any changes made less than 24 hours before the experience's start time will not be accepted.
Cut-off times are based on the experience's local time.